In 1995, Craigslist changed the way individuals bought and sold personal items, including used vehicles. Craigslist replaced newspaper classified ads as the go-to spot for posting cars for sale.
Dealerships quickly took notice of Craigslist, listing their vehicles and stocking up on used car inventory. On a list of the most impactful technologies for the automotive industry, Craigslist is certainly near the top.
Today, a new platform is quickly replacing Craigslist as the preferred personal listing site: Facebook Marketplace. Like Craigslist, Facebook Marketplace allows anyone—including dealers—to buy and sell vehicles. It has become an indispensable source of new leads for dealerships around the country.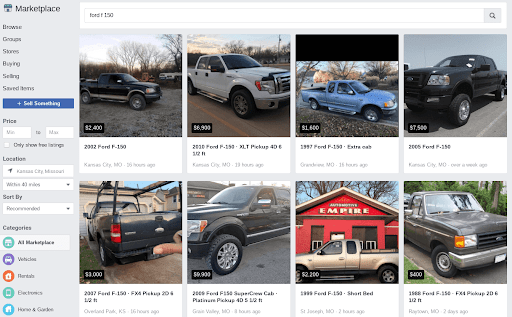 Here are 5 reasons why dealers should be on Facebook Marketplace:
1. Car Buyers Love It
Facebook Marketplace has quickly become the favorite classifieds site for car buyers and sellers. Car buyers love it because it's easy to use and navigate. It also gives them more control over their safety and privacy. Marketplace only allows communication via Facebook Messenger, which requires both parties to have legitimate Facebook profiles.
This is a big improvement over Craigslist, which is infamous for sketchy trades with anonymous users. Plus, car buyers don't have to give out their email or phone number to the seller.
2. Facebook Marketplace Drives Leads
Some dealers are getting more leads from Facebook Marketplace than traditional lead providers like Cars.com.
"A lot of dealers I've talked to say that last year, 5% of their leads came from Facebook Marketplace. Now it's closer to 20%," said Ryne Sitar, co-founder and VP of Product of Selly.
One reason for dealership success on Facebook Marketplace is that, unlike third-party lead providers, Marketplace doesn't sell premium listings (but that could change in the future). For now, dealers can generate exposure without "paying to play."
3. Built-In Kelley Blue Book Values and CarFax
When sellers import a new list via VIN number, it automatically provides the Kelley Blue Book value of the vehicle. It also shows the CarFax history report. This level of transparency is another big improvement over Craigslist, and it builds trust between the buyer and seller.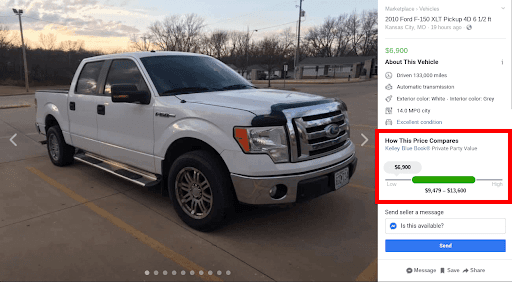 4. Easy to List
For individual sellers, listing a vehicle on Facebook Marketplace takes less than 30 seconds. For dealers, it's even easier. When you partner with a Marketplace-approved Inventory Partner, your listings will automatically syndicate to Marketplace from your DMS. No manually listing required.
5. Find Affordable Used Car Inventory
With prices rising for both new and used vehicles, dealerships are in need of affordable used car inventory. Facebook Marketplace is a excellent place to find local used vehicles for sale at great prices.
Challenges for Dealerships
Like any new platform, Facebook Marketplace comes with its own set of challenges. Some challenges are simply kinks that we expect to be worked out over time. Other things are intentional features and not likely to change.
1. Losing Connection with Customers After 24 Hours
While live chat on Facebook Messenger is great, it requires more work by dealerships to manage. You have 24 hours from the customer's last message to contact the customer, and then Messenger severs your line of communication. After that, the buyer has to contact you first to resume the conversation.
Dealerships need to set up processes to answer Messenger chats as quickly as possible. Luckily, Facebook has an auto-responder feature that sends customers a greeting and lets them know you'll be in touch.
2. Assigning Leads to Salespeople
Dealerships need to develop a set of rules for assigning Facebook Marketplace leads to salespeople. Does the lead go to the first salesperson to respond, or will you implement a round robin model on the backend?
3. Who Can Respond to Messages?
Currently, only Facebook Page admins can respond to messages coming in from Marketplace. That puts larger dealerships in a tough situation; do they give all their salespeople admin access, or do they assign a couple of individuals to field inbound messages?
4. Disconnected Customer Communications
The best sales programs manage all customer communications on a single platform. No personal text messages, emails, or phone calls. Everything is handled within their automotive CRM.
Unfortunately, Facebook Messenger does not integrate with any automotive CRMs… yet. For now, dealers have to make due with Messenger being disconnected from the rest of customer communications. That means manually updating customer contacts in their CRM.
How to Make the Most of Facebook Marketplace
Despite the challenges, Facebook Marketplace is a new and exciting opportunity for dealerships. Now is the time to get established on Marketplace and become familiar with the platform. Dealers who start today can still gain a competitive edge by being an early adopter.
In future articles, we'll share tips on how dealers can make the most out of Facebook Marketplace.