We've all felt the sting of paying for things we don't actually need.
Mobile carriers, gym memberships, and cable companies are all guilty of making us do this. They bundle their products and services into generic packages designed to please everyone. But sometimes, having "everything" really means having nothing.
That's exactly what happens when you try to use a general purpose CRM (customer relationship management) platform for your dealership. Even the most comprehensive general CRMs lack the dealership-specific features your team needs. You also end up paying for features that you'll never use.
You can avoid this lose-lose scenario by using an automotive CRM instead.
The General Purpose CRM: Jack of All Trades, Master of None
No matter what size your dealership is, you need a CRM to remain competitive in today's climate. Operating without one leaves you and your team at a significant disadvantage.
CRMs streamline every aspect of your business and ensure that each customer walking through your door receives the best experience possible. Important features include lead management, customer communication solutions, sales analytics, and appointment and task management, just to name a few.
But once you've decided to start utilizing a CRM, you're going to be left with one thing — choices. A lot of choices.
There are hundreds of CRM solutions on the market today. Instead of evaluating each one, many dealers, understandably, go with either the cheapest option or one they've heard of. This usually means the dealer chooses a general purpose CRM.
At first, you might find that a general purpose CRM takes care of your dealership's basic needs. As time goes on though, you'll notice it's missing key features essential to thriving in the dealership business.
Let's use Zoho as an example. Zoho is one of the most popular CRMs on the market and used by companies around the globe. It offers a range of features, including customer/lead management, data management, and marketing solutions. Its laundry list of tools matches the laundry list of businesses and industries it serves.
While its broad set of features allows Zoho to appeal to different types of customers, it also means that it lacks features specific to the automotive industry.
In other words, Zoho is a jack of all trades — and master of none.
General purpose CRMs work well for general sales functions, but they won't give your dealership a competitive edge. You need a CRM that understands the auto industry and includes features for the unique car-buying journey.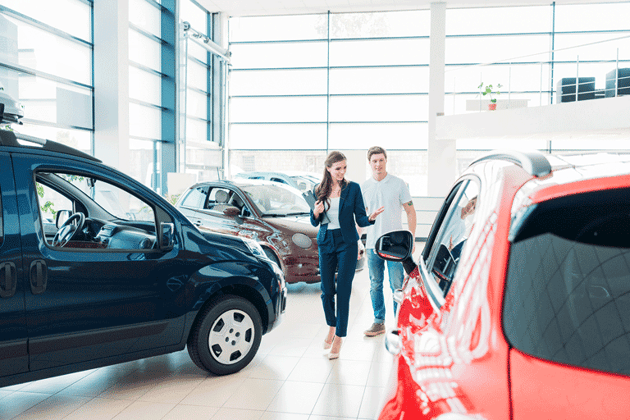 Automotive CRMs: Designed for Dealers
Automotive CRMs are designed with dealers in mind. They include industry-specific features like:
DMS integrations
License scanning
F&I capabilities
Managing compliance requirements like TCPA and texting.
They also have general-purpose features that every business needs:
Voice, text, and email management platforms for your sales team
Streamlined lead management and communication
Auto Reply to act fast on new leads.
Of course, different-sized dealerships have different needs. Large franchises need features like OEM integrations and rebate management. Some automotive CRMs are built specifically for the needs of franchise dealers, but also come with a price tag only franchises can afford.
But even small and mid-sized independent dealers need a good CRM. It allows owner-dealers to do more with the limited time they have. Even one-man shows can benefit from streamlined operations that come from using a CRM. For these reasons, there are also automotive CRMs built just for independent dealers.
Despite what you might hear, automotive CRMs aren't automatically more expensive just because they're more focused. Not only do you get more bang for your buck with industry-specific features, but some automotive CRMs start at less than $100/month.
Whatever size operation you have, there's a variety of automotive CRMs on the market at different price points that can fit any dealership's particular needs.
Pay for what you want, and what you need
With hundreds of available CRMs out there, it can be difficult to sift through all of them to find the one that's right for your store. Knowing that you need an automotive CRM definitely narrows down the playing field, but you'll still be left with plenty of choices.
Ultimately, you'll need to go with an automotive CRM that handles all of your needs for a price that makes sense for your business.
We've all paid for products with features we don't need. That doesn't have to be the case when deciding on a CRM for your dealership.
With an automotive CRM, you're paying for what you want and need for your business.